The Alamo with John Wayne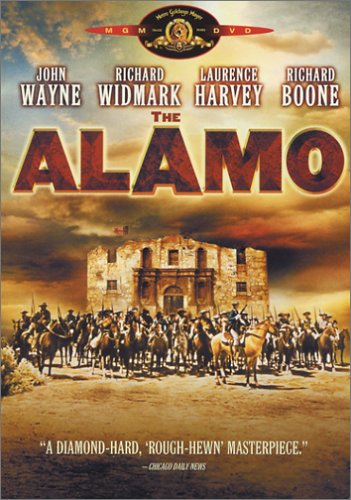 Yesterday, I woke with a song running through my head, which then led to thoughts of the movie from which it came. "The Alamo," filmed in 1960, starred John Wayne, Richard Widmark, Laurence Harvey, Richard Boone, Frankie Avalon, Patrick Wayne, Linda Cristal, Ken Curtis, Chill Wills and a cast of thousands.
Based on a true story, it is now considered by some not to be factually accurate of the Battle of the Alamo, which took place in an old mission in San Antonio, Texas.
Nevertheless, the movie presented drama and pathos at its best and has stuck with me through the years. I actually cried with both grief and anger when I originally watched the movie. It still brings tears to my eyes when I think of the nation building, talented people we lost there.
When I found myself humming that tune, "The Green Leaves of Summer," I naturally connected it to the movie, and as my fellow writers probably know, that meant I simply had to write about it, since I couldn't get it off my mind. Even tonight as I sit here editing my original story, I find those same feelings stealing back into my mind and heart. Below is the song I heard in my head. Play it and think of the few survivors allowed to leave The Alamo alive, walking away from their valiant dead.
The speeches about America and freedom John Wayne and others gave in the movie struck home with the audience, since at that time we felt our American way of life was being encroached upon by the threat of communism when the movie came out.
See It All Over Again
The Alamo With John Wayne
If you've seen it before, see it all over again. Even though it's a dramatization of true events, this movie still stands as one of the best John Wayne films ever made. He spoke his feelings about America in the dialogue, and since he was financing it, nobody objected.
There's a parallel comparison between Wayne and Crockett. In "The Alamo," he plays an early American roughshod hero and politician, Davy Crockett, "The Man From Tennessee." Davy Crockett was respected for all the things he did as a frontiersman AND as an American politician representing the people. He was then known as one of America's favorite sons and the whole country grieved his passing.
Marion Michael Morrison, AKA John Wayne, throughout his entire Hollywood career, expressed his desire to be remembered as an American. That appendage meant more to him than his identity as a movie star. He believed in our country and he stood for all he believed. Like Crockett, he was and still is one of America's favorite sons. America mourned his passing of lung cancer in June of 1979. Though he will never be forgotten for the many memorable characters he played in movies, most of all he'll be remembered as an American, as he wished.
Moving, Emotional Music
The moving music accompanying the film, composed and conducted by Dimitri Tiompkin, with lyrics by Paul Francis Webster, brought out the emotional response in movie goers it was intended to do. The entire soundtrack takes you through the battle and the grief. Even the attack and call to arms instrumental section of the soundtrack raises feelings of battle and defense of our people. Tiompkin certainly knew what he was doing in creating a soundtrack that reached the hearts of the American public.
The Alamo soundtrack…

The Ballad of the Alamo (From 'The Alamo' Original Soundtrack)
At The Drive-In Movie
I was a young mother in 1960 and drive-in movies were such a convenience for a family, because babysitters weren't necessary. You just dressed the kids in their PJs for the night, threw in a couple blankets, and they happily snuggled down in the back seat, while the adults watched a movie from the front seat. This was how I first saw this movie, and as we drove home that night I was still teary-eyed, thinking of those who gave up their lives to delay Santa Ana so that Sam Houston and his fighting forces could prevail.
They Held Out For 13 Days Against Thousands of Troops
For 13 days, history reports this small band of men, fought and successfully held off over 1,500 of General Santa Anna's soldiers. They didn't have to stay, they could have left The Alamo safely, days before the attack first began. Speaking to the men in the compound, Colonel Travis drew a line in the sand with his sword and said, "Any man who will fight to the death, cross over. If you want to live, leave now." The movie told of the bravery of these men, most of whom decided to stay and fight. Inevitably, the superior numbers of Santa Anna's troops breached the walls of the old mission and killed all but a handful of survivors.
Our American Heroes
As I watched it, I felt as though I was there. This was where Davy Crockett (Wayne) and Jim Bowie (Widmark) and Colonel William Travis (Harvey) and less than 200 others, met their end at the hands of Generalissimo Antonio Miguel Lopez de Santa Anna (Ruben Padilla) , Presidente of Mexico and Commandante of the Mexican Army.
//www.youtube.com/watch?v=0PtB-Y8-nsM
"The most authentic set in the history of the movies."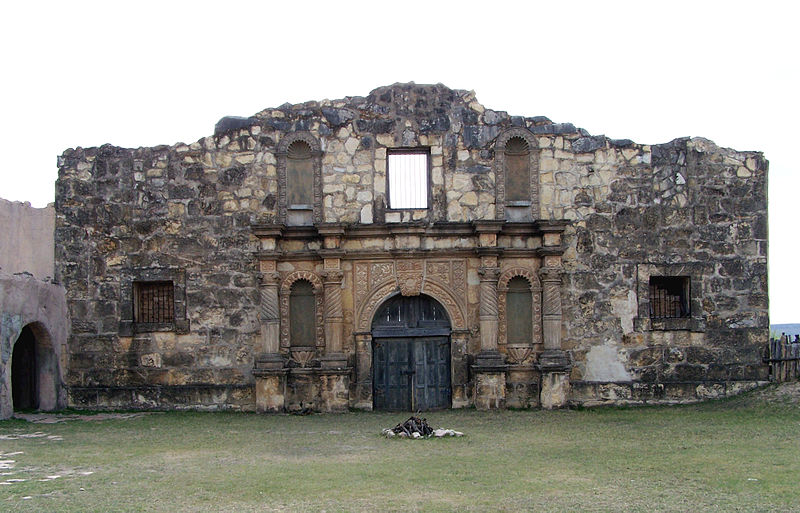 What has been described by historians as the "most authentic set in the history of the movies," was built near Brackettville, Texas on a ranch belonging to James T. Shahan. In order to make the movie, an infrastructure first had to be created; 14 miles of road was laid, six wells were sunk to provide 12,000 gallons of water each day, and miles of sewage and water lines were laid. There were also thousands of acres of horse corrals built. Over a million and a quarter adobe bricks were hand made to create the walls of the three-quarter scale Alamo mission. The set took more than two years to construct.
"There's right and there's wrong. You got to do one or the other. You do the one and you're living. You do the other and you may be walking around, but you're dead as a beaver hat."
— John Wayne as Davy Crockett in "The Alamo"
John Wayne needed to make this movie so he backed it with his own money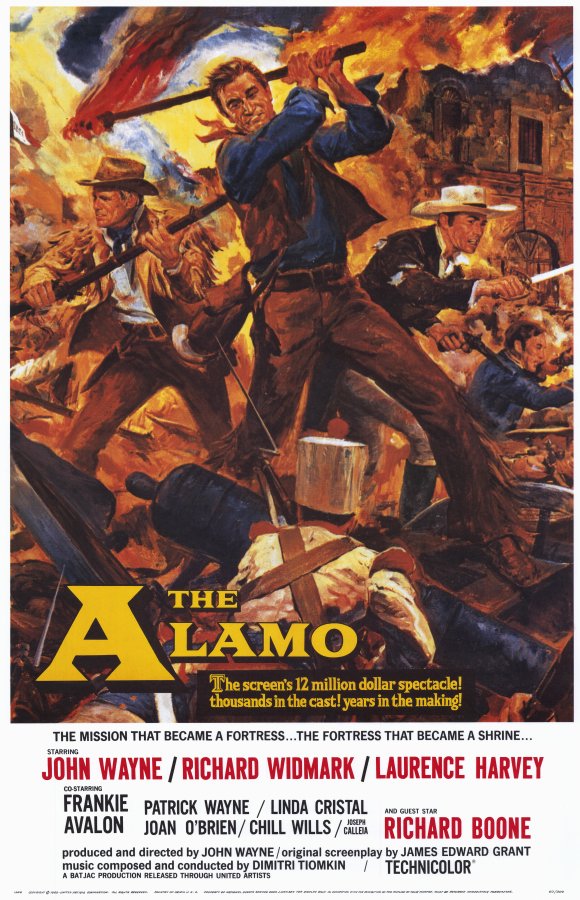 It Wasn't a Spur of the Moment Movie
Way back in 1945, John Wayne began thinking about making a movie about the Battle of the Alamo. He was immersed in the story and decided it was something he needed to do, but at that time he was working with Republic Pictures and the president of the company clashed with him over a proposed $3,000,000 budget. Wayne left Republic due to the feud but was not allowed to take his script with him. His script was later re-written and made into a movie called The Last Command. The entire situation angered Wayne to the point he determined to make his own version.
Batjac Production Company Is Formed
John Wayne and producer Robert Fellows formed their own production company, Batjac. Wayne decided in order to keep the vision he had in his mind, he would produce and direct The Alamo, but not act in it. However, financial support he needed was not forthcoming without the box office guarantee of his on-screen appearance. In 1956, he began a partnership with United Artists in which UA would contribute $2.5 million and serve as the movie's distributor. Batjac would contribute $1.5 to 2.5 million, with Wayne as the star. He solicited and obtained the remainder from wealthy Texans who insisted the move be shot in their state. All this financial backing from United Artists and Texas investors, put Wayne in serious debt, as it was provided on the basis of the movie more than repaying their investment.
Mixed Reviews
The movie was released in 1960 with the premiere at the Woodlawn Theatre in San Antonio, Texas. It was filled with stars, Richard Widmark, Linda Cristal, Chill Wills, Laurence Harvey, Richard Boone, and for the young set, the handsome Patrick Wayne (John's son) and cute Frankie Avalon (popular young singer.) It received mixed reviews and was noted as being "overlong." The movie included an intermission of 15 minutes. Although it obtained large box office sales, the cost of production kept it from making money. John Wayne lost his personal investment money through his Batjac production company. He never recovered any of it, and finally sold the entire rights to United Artists.
"To hit a lick against what's wrong or to say a word for what's right even though you get walloped for saying that word."
— John Wayne as Davy Crockett in "The Alamo"
Requiem from The Alamo….
Auction of John Wayne's belongings in early October.
John Wayne passed away in 1979, yet he is still the 3rd most popular movie star on earth. Why is this? Because he represented American life and the American way of fairness, honesty, toughness and the pioneering spirit. Even with all the accolades he received, the only thing he was truly proud of was that he was an American. Ethan Wayne, his youngest son and head of John Wayne Enterprises,  put the items up for public display in Dallas, Texas, and then in New York City, as well as online before the auction in Los Angeles, California. The sale garnered 5.3 million dollars, an unnamed portion of which goes to cancer research.
The Alamo – 2004 remake with Dennis Quaid
In 2004, a remake of The Alamo came out starring Dennis Quaid, Billy Bob Thornton and Jason Patric as the three main characters, Travis, Crockett and Bowie. It is said to be much more historically accurate than the 1960 movie. I believe this film suffered from too little promotion and the fact that it is a Disney film. Many people find it more interesting with less speeches about freedom and more action from the characters. But for me, it lacked something without the patriotic voices of the day, as that was the way people thought and felt during that time. Without the emotional depth of the music and soundtrack, it fell far from the impact provided in The Alamo of 1960.
Don't be sorry if you missed it above. If you want to buy it now, here it is:
ABOUT THE AUTHOR
Nancy Hardin is a writer, author, and journalist. She is a mother, grandmother and great-grandmother. She is a military veteran of the Women's Army Corps (1968-1972) during the Vietnam War era.