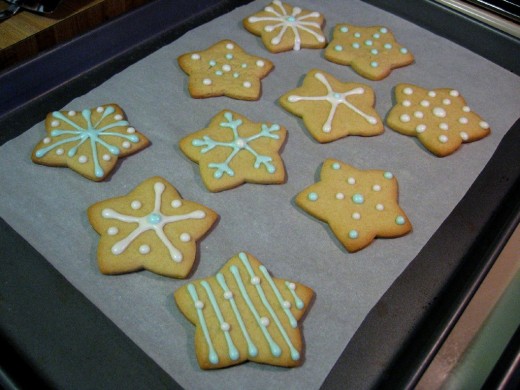 Photo Credit
Old Fashioned Molasses Cookies
When I was a kid, a special treat during the holidays were Old Fashioned Molasses Cookies. My mom was one of the best cooks and bakers around, and I just knew her molasses cookies were the best in the world. She only baked them during the winter holidays, Thanksgiving and Christmas. Why, I don't know, because I bake these cookies any time I feel the urge, even in the summer. I'm giving you this recipe because I want you to be able to experience and share them with others.
Use only "unsulphured" molasses.
Make sure to buy the best molasses; either unsulphured molasses or blackstrap are the best because of their deep and mellow flavor. Blackstrap are especially good since they contain more vitamins and minerals than other molasses, which makes them more nutritious. Above all, do not use the sulphured style of molasses because they affect the chemistry of the dough and then the taste of the cookie in a bad way. I love to smell cookies baking and there's nothing like that wonderful molasses cookie fragrance wafting through the air. Nothing like carrying these cookies in your lunchbox or carrying them in your hand for a quick snack. These molasses cookies pack well too, for shipping, if you have family who yearn for your molasses cookies.
Baking From Scratch Instead of Boxed
Mama always said "Never eat anything you can't pronounce," when she would read labels at the store. She grew up learning to cook when she had to stand on a wooden box to reach the top of the stove. In our house, Mama always cooked everything from scratch. I'm sad to say, I haven't always carried on that tradition, but one thing that has never changed in my house is the recipe for these Old Fashioned Molasses Cookies, or any recipe handed down from my Mama. She knew what she was doing!
Old Fashioned Molasses Cookies are so special you don't need frosting
Sprinkling a little sugar on top before baking is really all they need. But for those who love to decorate cookies, or want some frosting with them, I've included a Royal Frosting recipe. To keep them safe from salmonella, I use meringue powder instead of eggs. Royal Frosting dries to a hard smooth finish, and can be colored with food coloring of your choice or left white. The recipe for the frosting is below the cookie recipe.
My Old Fashioned Molasses Cookies Recipe
Ingredients:
4 cups all-purpose flour, sifted
2 teaspoons baking soda
1& ½ teaspoon ground ginger
½ teaspoon ground cinnamon
⅛ teaspoon salt
1& ½ cups molasses, unsulphured
½ cup shortening, melted
¼ cup butter, melted
⅓ cup boiling water
Sugar for sprinkling surface of cookies, (optional)
Instructions:
In a medium bowl combine flour, baking soda, spices and salt.
In a large bowl, mix molasses, melted shortening, melted butter and water.
Gradually add dry ingredients to molasses mixture; blend well.
Cover and refrigerate until firm, about 2 hours.
On well-floured surface, roll out dough ¼-inch thick.
There are three methods for finishing these cookies, depending on your needs. You can cut them with a round cutter and bake them that way or sprinkle with sugar on top before baking. You can cut them with desired cookie cutters and sprinkle with sugar, or leave plain for baking and decorate with Royal Frosting  after they cool.
Place 2-inches apart on ungreased cookie sheet and bake in preheated 375 degree oven about 10-12 minutes.
Remove to wire rack to cool.
A Word About Royal Frosting
Royal Frosting or Icing calls for raw egg whites. Instead of that, I use Meringue Powder  which makes a beautiful Royal Frosting without danger of salmonella. Royal Frosting makes decorating cookies so easy, and it dries to a hard finish, so that cookies can be stacked or touch one another without sticking. One thing to remember too, is that Royal Icing hardens quickly when exposed to air. If it's not going to be used immediately, transfer it to an airtight container, then use it as quickly as possible. If it's beginning to harden as you work with it, add one or two drops of water and stir. Never add too many drops at one time, only enough until you see the icing begin to be easily stirred.
What You Need To Make Royal Frosting
4 cups Confectioner's Sugar
3 Tablespoons Meringue Powder
½ teaspoon vanilla or lemon or almond extract
½ to ¾ cup warm water
How To Make Royal Frosting/Icing
1. Stir the confectioners' sugar and meringue powder until well combined.
2. Add water and beat on medium to high speed with electric mixer until stiff and glossy peaks form, about 5 to 7 minutes.
3. Check to see if the ribbon of icing falling back into the bowl when you lift the beaters, remains visible for a few seconds on the surface of the icing. When it does this, you are ready to decorate cookies. You can also color it with paste food coloring to vary your cookie colors.
This is all tinted Royal Frosting, done up in Christmas colors on cutout Molasses Cookies.